Sustainability
That the world is currently changing at an increasingly rapid pace, is a well known fact, also that it is driven by "mega trends" from deepening globalization, large scale population trends, accelerating technological progress, the "Consumer," the corporate social responsibility imperative and growing political uncertainty. These trends are creating a sense of urgency around focusing on Sustainability, forcing companies to innovate and refine everything from their strategy, business models as well as their operating model.
Since 2007, the Global University Alliance members have researched, compared, analyzed and developed Best Practices, Industry Practices and LEADing Practices around sustainability concept. Our last analysis of 2018 revealed that an astonishing 93 percent of global CEO's surveyed believe that sustainability is critical to the future success of their companies. Close to 90 percent of these organizations believe that sustainability practices would be a key ingredient in helping them in the future to differentiate themselves in the market.
But most of these executives added that concerns over an integrated sustainability approach led them to difficulties of a longer term development and deployment. So while sustainability is not a new subject anymore, but rather a mature subject, many organizations still struggle to implement the concepts across the organization. Our analysis revealed that this is due to complexity of the subject and that they don't know how they can incorporate sustainability into the Business Model, link sustainability to their strategy, develop the right performance measures and incorporate it into their operation.
Research Focus
Information and research is sought on topics related to the understanding and comparison of sustainability concepts, including, but not limited to:
What is Sustainability?
What does Sustainability include?
Which different Sustainability concepts exist
What are the most common Sustainability concepts, method and approaches applied
Compare various Sustainability concepts, method and approaches
Industry adaption of sustainability concepts
Ontology foundations of Sustainability concepts

What common Sustainability class type objects exist?
Which common Sustainability stereotype and subtype objects exist?
What are the most common object descriptions?
How do these class, stereo, type and sub-type objects semantically relate
Is there a pattern in the objects and relationships, where a generic conceptual structure could be derived?
Can an Sustainability meta model be created

Sustainability Modeling and viewpoint considerations:

Typical Sustainability artefacts used?
Which challenges are being addressed by current Sustainability artefacts
What challenges are not being addressed by current models?
Are there any underlying relationships between the Sustainability artefacts

Sustainability Architecture considerations:

Typical Sustainability views in enterprise architecture, this includes:

Business Architecture Sustainability views
Information Architecture Sustainability views
Technology Architecture Sustainability views

Typical Sustainability Layered Architecture views

Sustainability LifeCycle considerations:

Could Sustainability be considered with a LifeCycle perspective?
What would typical Sustainability LifeCycle phases be?
What would the Sustainability LifeCycle tasks/steps be within the phases?
Which Roles would typically be involved in the Sustainability lifecycle?
Could there be a Continuous feedback loop build into the Sustainability LifeCycle?

Sustainability Maturity considerations:

Does a maturity concept fit to Sustainability?
What are the most common maturity areas that could fit to Sustainability?

Categorization considerations:

What are the most common categorization and classification used in Sustainability concepts?
Are there specific Categorization schemes?
Are there specific Sustainability concept tagging types

Patterns

What works well around Sustainability (repeatable patters)

What are Sustainability Best Practices
What are various Industry Sustainability Practices
What are Leading Sustainability Practices (from the outperformers)
What doesn't work well around Sustainability (anti-patterns)
Research Approach
When involving in such a complex industry research and analysis as defined in the research focus, this is where the Global University Alliance (GUA) has developed a unique collaborative process between academia and industry. As illustrated in figure 1, they do this through defining clear research themes, with detailed research questions, where they analyse and study patterns, describe Sustainability concepts with their findings. This again can lead to additional research questions/themes as well as development of artefacts which can be used as reference content by practitioners and industry as a whole.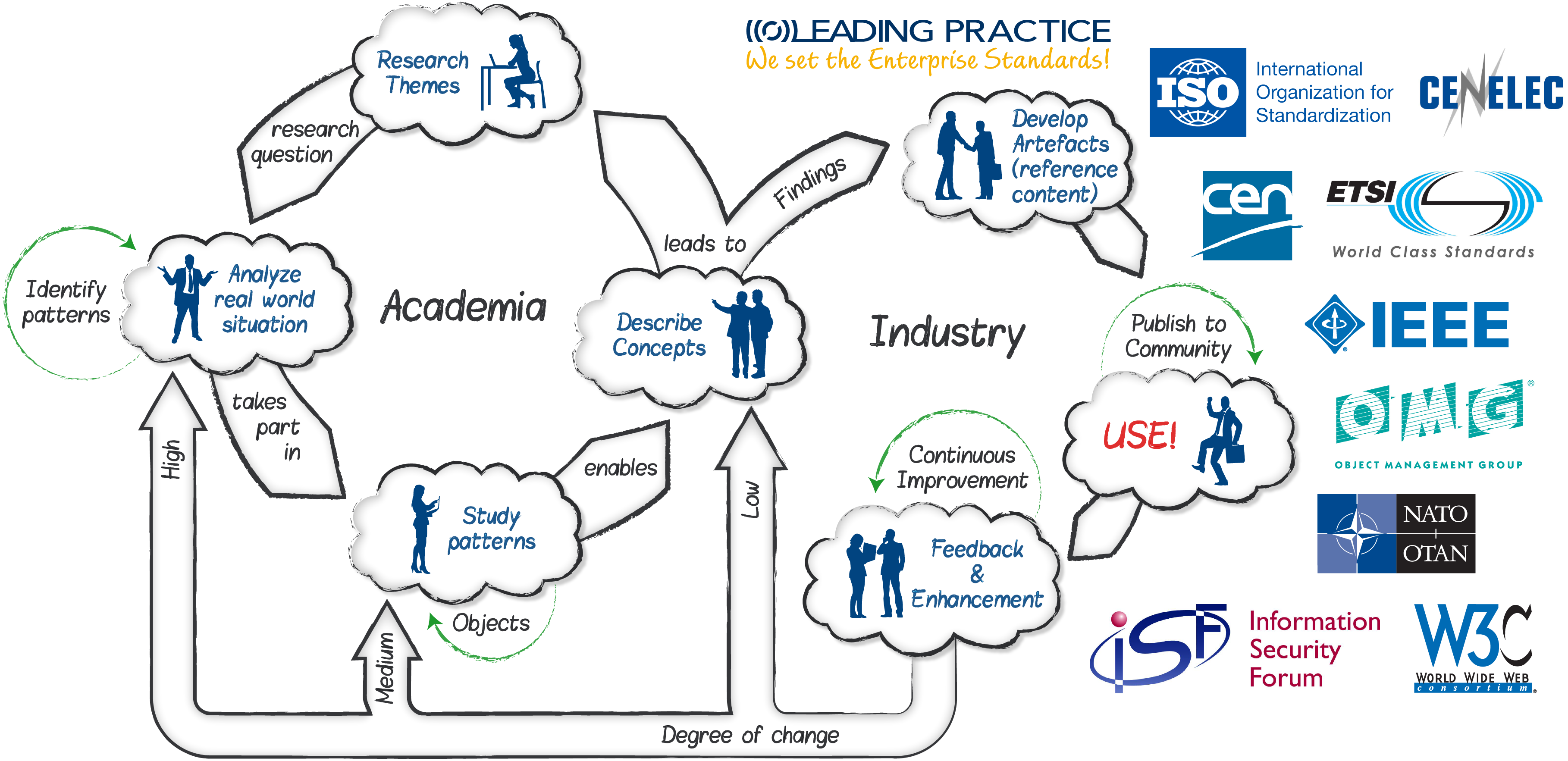 The Academia – Industry process has two types of different cycles. The one where Academia is leading the research and innovation, this is called the Academia Industry Research (AIR) process. The other is where practitioners from Industry describe concepts and develop artefacts and thereby they bring about innovation. This process is called the Academia Industry Design (AID). In order to establish both rigor as well as relevance, both of these loops are important for the Enterprise Sustainability research focus.
Research Team
The Sustainability Research contacts are:
Research Coordinator:
Professor Mark von Rosing
Head of Global University Alliance
The team leaders involved in this work are among others the following academics, industry researchers and Sustainability thought leaders:
David Coloma Guerrero, Universitat Politècnica de Catalunya, Spain
Karin Gräslund, Wiesbaden Business School, Germany
Identification of the most common Sustainability innovation and transformation concepts, Stefan F. Dieffenbacher (Industry Thought Leader)
Most common Enterprise Sustainability forces identified, Gabriella von Rosing
Most common Enterprise Sustainability strategies applied, Jamie Caine (academic researcher)
Enterprise Sustainability Ontology (meta objects), Prof. Wim Laurier (academic researcher)
Enterprise Sustainability Semantics (relations and rules), Prof. Simon Polovina (academic researcher)
Typical Sustainability Information concepts, Prof. Hans Scheruhn (academic researcher)
Most common Enterprise Sustainability measures (KPIs), Ulrik Foldager (industry researcher)
Most common Enterprise Sustainability Roles, Prof. Maxim Arzumanyan (academic researcher)
Most common Enterprise Sustainability Stakeholder & Concerns, Maria Hove (industry researcher)
The impact of sustainability investments in developing countries, Salihu Dasuki
As far as partners are involved, these are the collaboration partner contacts:
Enterprise Standards Body:
Georg Etzel
LEADing Practice, Co-CEO
International Organization for Standardization:
Johan H Bendz
ISO, SC 7, WG 42 Convener
IEEE Coordinator:
Rich Hilliard
Institute of Electrical and Electronics Engineers
Editor of IEEE Std 1471:2000
Project editor, ISO/IEC/IEEE 42010
Software Standards Body:
Henk DeMan
OMG VDML Chairman
NATO Coordinators:
Johan Goossens
NATO Allied Command Transformation
Branch Head, Technology & Human Factors
UNESCO Coordinator:
Dr. Selin N. Şenocak
UNESCO Chair Holder
Cultural Diplomacy, Governance and Education
Director, Occidental Studies Applied Research Center
Political Sciences and International Relations Faculty Member
CSIR Coordinator:
Rentia Barnard
Research Institute CSIR
Enterprise Architect Research Group Leader
Information Security Standards Body:
Steve Durbin
CEO of Information Security Forum
Enterprise Architecture Framework:
John A. Zachman
Inventor and Father of Enterprise Architecture
Zachman International