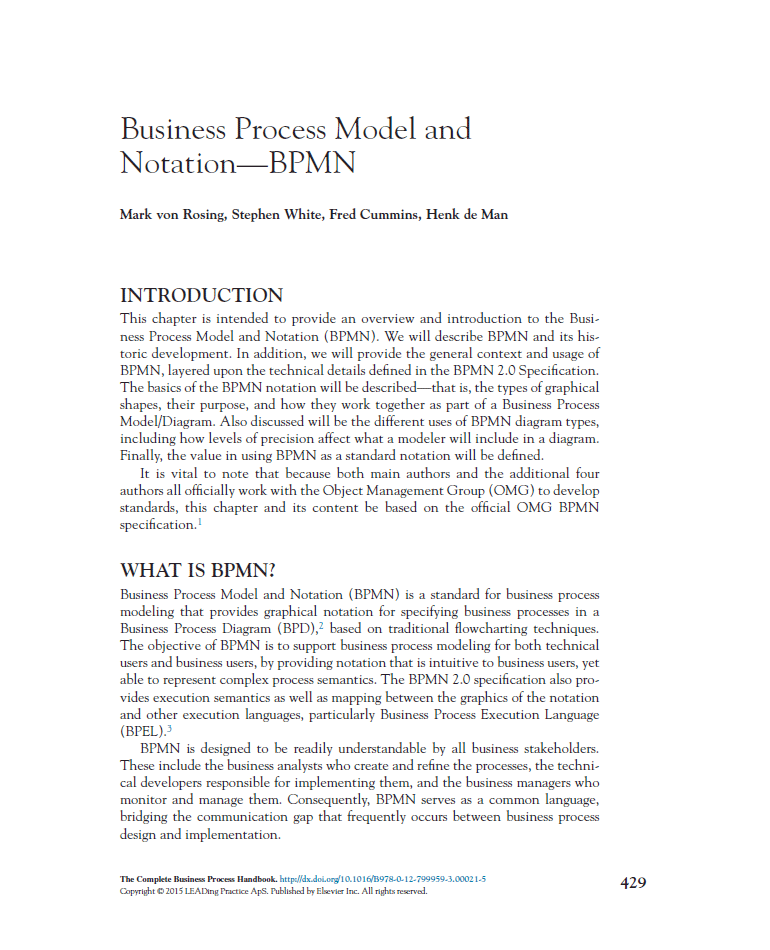 Business Process Model and Notation
Mark von Rosing, Stephen White, Fred Cummins, Henk de Man
This chapter is intended to provide an overview and introduction to the Business Process Model and Notation (BPMN). We will describe BPMN and its historic development. In addition, we will provide the general context and usage of BPMN, layered upon the technical details defined in the BPMN 2.0 Specification.
---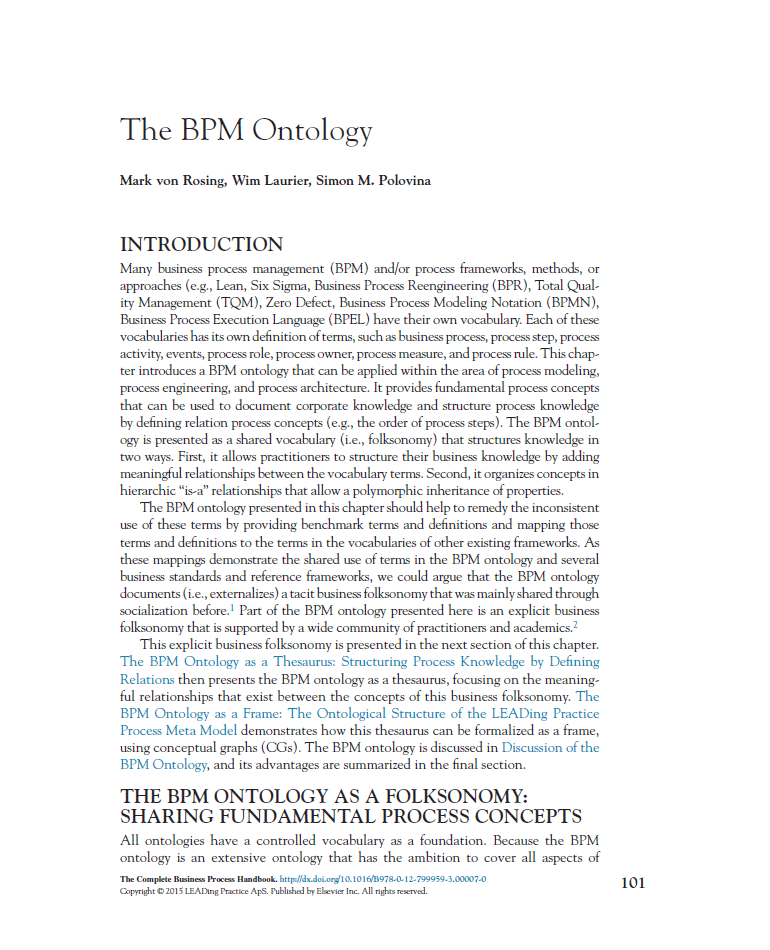 The BPM Ontology
Mark von Rosing, Wim Laurier, Simon M. Polovina
The BPM ontology presented in this chapter should help to remedy the inconsistent use of these terms by providing benchmark terms and definitions and mapping those terms and definitions to the terms in the vocabularies of other existing frameworks.
---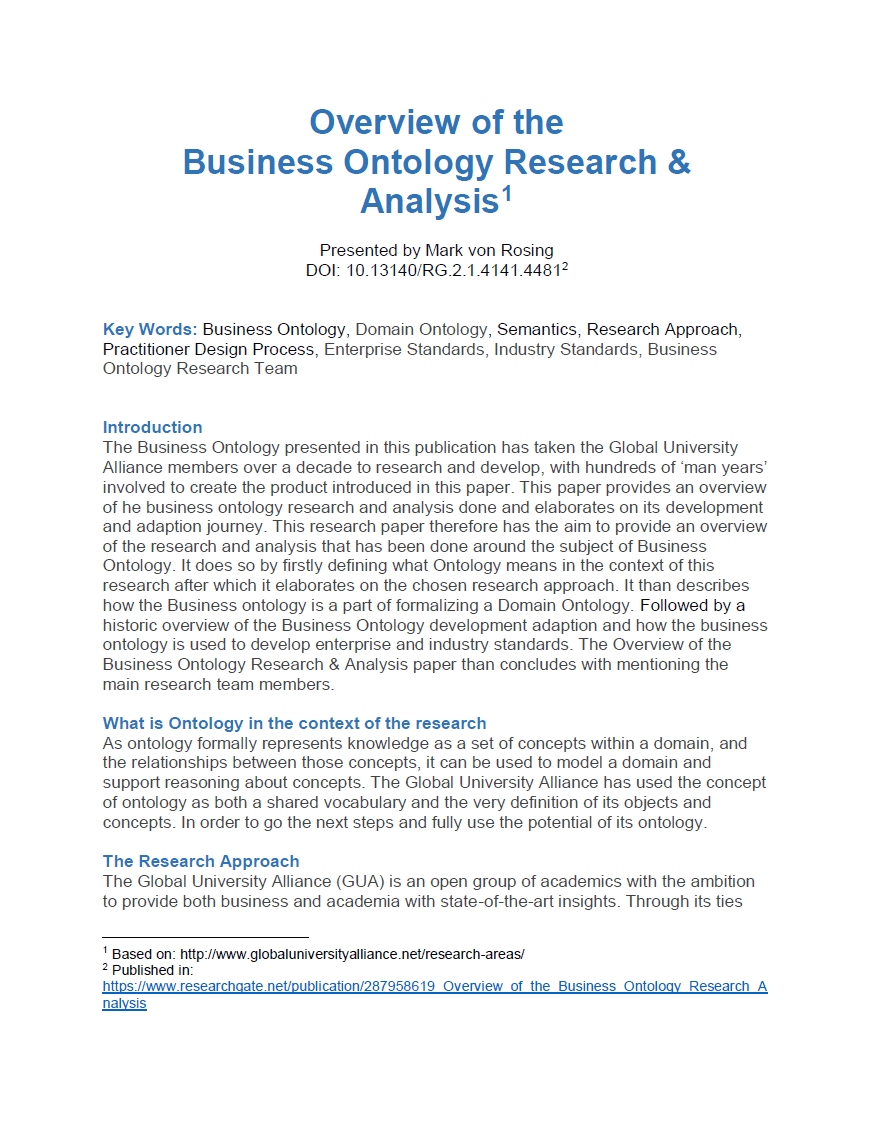 The Business Ontology Research & Analysis
Mark von Rosing
The Business Ontology presented in this publication has taken the Global University Alliance members over a decade to research and develop, with hundreds of 'man years' involved to create the product introduced in this paper. This paper provides an overview of he business ontology research and analysis done and elaborates on its development and adaption journey.
---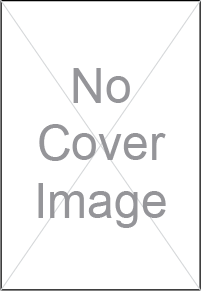 Value Delivery Modelling
Fred Cummins, Henk de Man & Mark von Rosing
Value Modeling is one of the most common dilemmas and challenges confronting companies today, regardless of factors such as size, revenue, industry, region or business model. There is a need to manage decisions to make large-scale investments in business and IT-enabled capabilities as well as to ensure that these complex investments are effectively and efficiently transformed.
---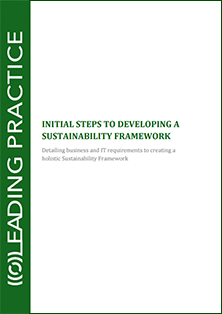 Initial thoughts on a Sustainability Framework
Prof. Mark von Rosing, Maria Hove, et al
While economies are crumbling and markets are changing, customer are changing their demands as well. One of the biggest changes in customer demand is the need to be Sustainability-focused. A new research on this subject from UN Global Compact, underpins that 93 percent of 766 global CEOs surveyed believe that sustainability is critical to the future success of their companies.
---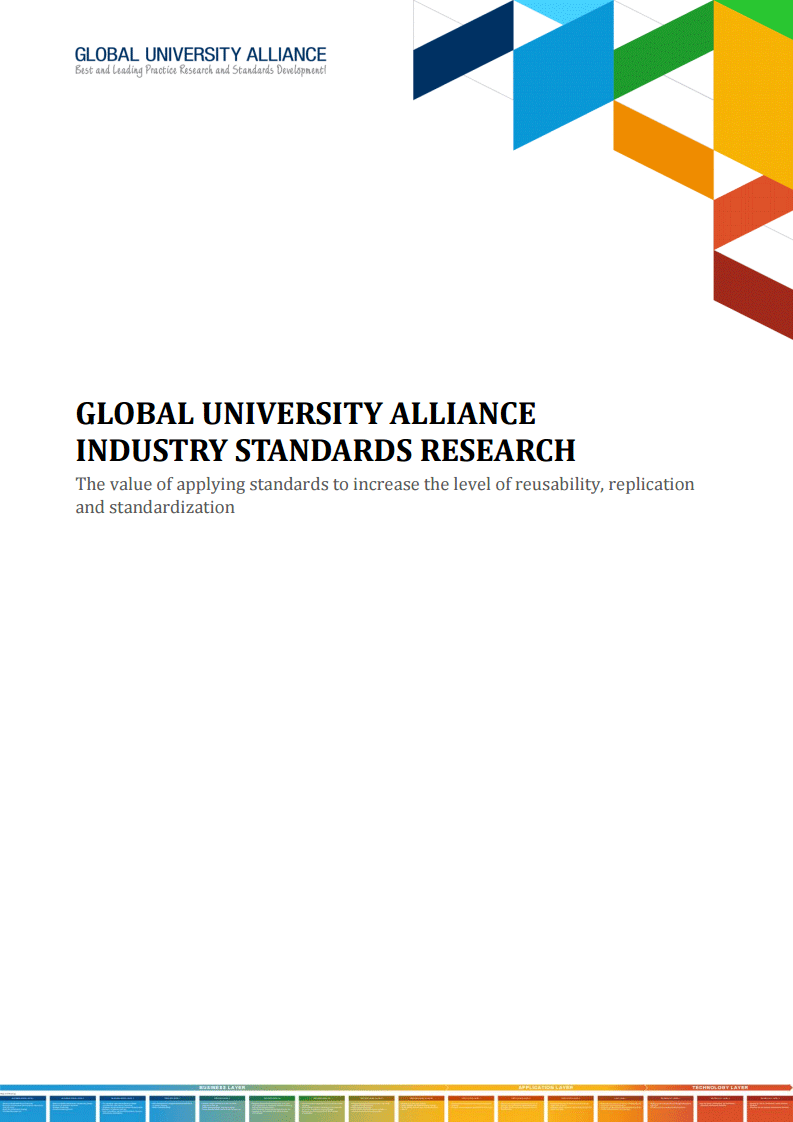 Industry Standards
Prof. Mark von Rosing, Ulrik Foldager, et al
The Global University Alliance Industry Standard groups consist of non-profit User Group and Industry Standard Committees that provides a global platform for  executives, experts, academics, thought-leaders, practitioners and researchers to Industry Standards based on Best Practice & Leading Practices.
---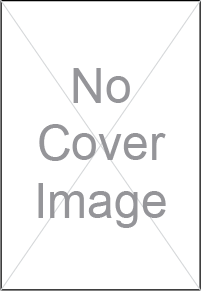 ASAP Methodology 7 Core
Mark von Rosing, Ann Rosenberg
In 2009, behind-the-scenes work was undertaken to harmonize the way we proj- ect-manage SAP implementations. The result is the new ASAP Methodology for Implementation 7, which was launched in February 2010. The new ASAP meth- odology brings together the previous ASAP methodology, Business Intelligence Solution Accelerator (BISA) methodology, value delivery principles, business pro- cess management methodology, and service-oriented architecture methodology.
---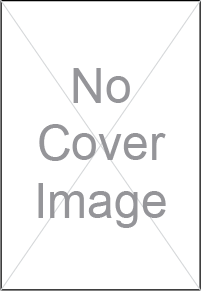 Business Value Management: A Way To Plan, Create and Realize Value (danish paper)
Mark von Rosing
An interesting fact about companies is that they spend most of their time trying to realize value. That in itself is quite understandable, but it is a fatal misconception not recognize the fact that there is a direct link between value planning, value creation and the subsequent implementation thereof.
---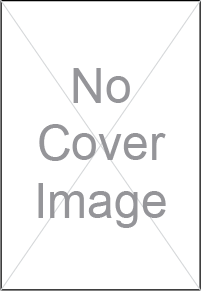 Combining BPM and EA in Complex IT Projects: (A Business Architecture Discipline)
Mark von Rosing, Maria Hove, Raghavendra Subbarao Rao, Tom W. Preston
The paper presents the up-to-date subject of why BPM and Enterprise Architecture should be an integrated part of any complex IT project. While nearly all Enterprise Architecture frameworks and methods include approaches of how to handle or work with process, none of the existing EA approaches actually incorporate Business Process Management in their EA disciplines.