Enterprise Architecture
It is more than 30 years ago since  John Zachman in 1982 first mentioned Enterprise Architecture in the public domain. Since then, various different enterprise architecture frameworks (EA frameworks) have been developed. At present, there is a tremendous proliferation of architecture frameworks; hundreds are in current or recent use, and new ones are being created. Architects, architecting organizations and enterprises need ways to understand, choose and adapt architecture frameworks for their use.
Together with the Global University Alliance (GUA) the standards organizations ISO, IEEE, CSIR and OMG intend to solicit information and research into basis for the comparison, assessment, and selection of architecture frameworks and their evolution as architecting as a practice matures.
Research Focus
Information and research is sought on topics related to the understanding and comparison of Enterprise Architecture Frameworks (EAFs), including, but not limited to:
Semantic foundations of EAFs

What common Ontology aspects do they have?
What common meta objects do they have?

Organization and modularization principles of EAFs
Extension and customization mechanisms for EAFs
Comparing EAFs, method and approaches for comparison
What Enterprise Architecture roles exist
Concern-oriented considerations:

What concerns are well-supported (typical concerns they work with)?
What concerns are not currently handled?

Model and viewpoint considerations:

Typical models they work with?
What challenges are not being addressed by current models?

What are their tasks? How are EAFs situated with respect to other life cycle processes and activities?
Which Enterprise Architecture measures (KPIs) exist
Tool support: what impediments, opportunities exist?
The most common Value of Enterprise Architecture
Findings
Already in 2004, our analysis identified a pattern. Our analysis and research across 56 different industries revealed that there is an arranged way of thinking, way of working and way of structuring concepts and the work done within Enterprise Architecture. Figure 1 is an overview of the most common identified way of thinking, ways of working and ways of structuring concepts. We also identified that there is a connection between the arranged way of thinking, way of working, way of structuring and how enterprise architecture would work better in enterprise layers and their sublayers (figure 2). Our research and analysis results has then lead to a development of whole new concepts that was based on a common way of thinking, working and structuring within the layers and their sublayers (see figure 3).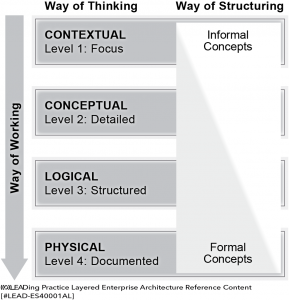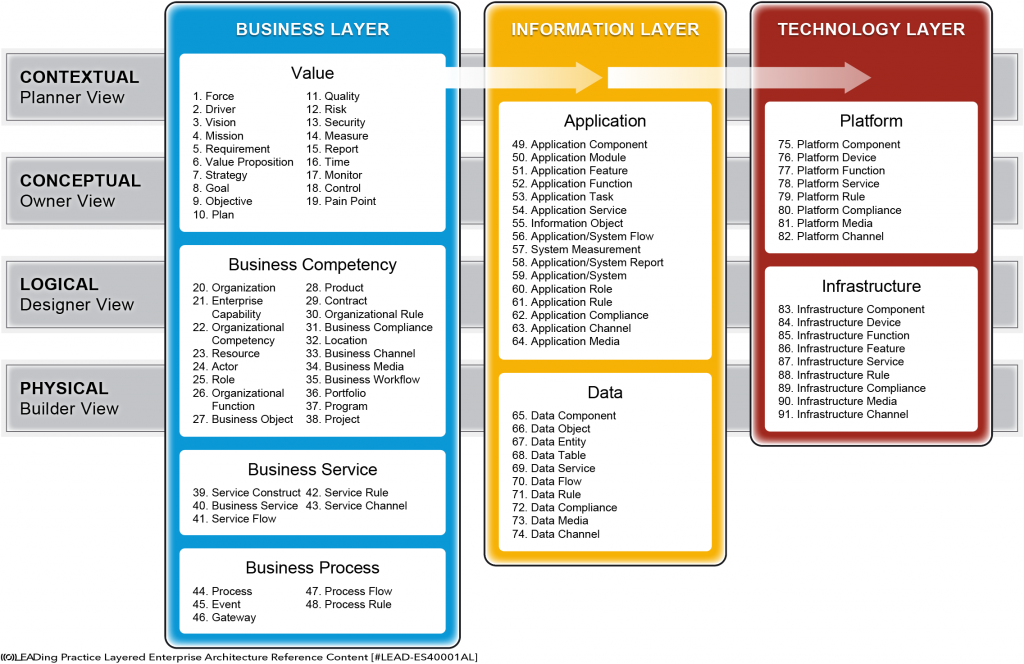 Baseline For Research
As a basis for the research we will base it on the international standard uniformity and interoperability, we adopt the conceptual model established in ISO/IEC/IEEE 42010:2011, Systems and software engineering — Architecture description, as a foundation for exploring architecture frameworks, defined as follows:
Architecture Framework: conventions, principles and practices for the description of architectures established within a specific domain of application and/or community of stakeholders.
Following the ISO/IEC/IEEE Standard, an architecture framework should be specified by:[1]
information identifying the framework;
one or more concerns;
one or more stakeholders having those concerns;
one or more architecture viewpoints (and their specifications);
correspondence rules, integrating the viewpoints;
conditions on applicability;
relationship with the provisions of the ISO/IEC/IEEE 42010 conceptual model ("meta model").
Research Team
The Enterprise Architecture contacts are:
Research Leader:
Professor Mark von Rosing
ISO 42010 Development Member
Head of the Global University Alliance
OMG Coordinators:
Fred Cummins
OMG, Business Modeling & Integration Task Force, Chairman
OMG Business Architecture Special Interest Group, Co-Chair
Prof. Antonio Margarito
University of Salento
OMG Business Architecture Special Interest Group: OMG standards that are BA relevant
Prof. Maxim Arzumanyan
Business Architecture Roles
OMG Academia & Research Working Group, Co-Chair
Global University Alliance, Co-Chair
Prof. Sjir Nijssen
PNA Group
OMG Academia & Research Working Group, member
Global University Alliance, member
Thierry Boissay
OMG Business Architecture Special Interest Group: Syntax Analysis
Henk DeMan
OMG Business Architecture Special Interest Group: Value Model
OMG VDML Chairman
Denis Gagne
OMG Business Architecture Special Interest Group: Case Modelling
OMG Case Management Model Notations, Chairman
Gagan Saxena
OMG Business Architecture Special Interest Group: Decision Model and Notation
OMG Decision Model and Notation SIG
Decision Management Solutions
NATO Coordinators:
Johan Goossens
NATO Allied Command Transformation
Branch Head, Technology & Human Factors
Krzysztof Skurzak
NATO C3 Architecture & Design
Peter Woudsma
NATO C3 Technology Innovation
UNESCO Coordinator:
Dr. Selin N. Şenocak
UNESCO Chair Holder
Cultural Diplomacy, Governance and Education
Director, Occidental Studies Applied Research Center
Political Sciences and International Relations Faculty Member
CSIR Coordinator:
Rentia Barnard
Research Institute CSIR, Enterprise Architect Research Group Leader
John A. Zachman
Inventor and Father of Enterprise Architecture, Zachman International
The team involved in this work are among others the following academics, researchers and analysts:
Most common Enterprise Architecture strategies applied, Jamie Caine, Jamaica
Enterprise Architecture Ontology (meta objects), Prof. Wim Laurier
Enterprise Architecture Semantics(relations and rules), Prof. Simon Polovina
Comparing EAFs, method and approaches, Prof. Mark von Rosing
Typical Architecture models, Prof. Hans Scheruhn
Architecture KPIs, Georg Etzel
Architecture Layers, Ulrik Foldager
Architecture Roles, Maria Hove
Architecture Viewpoints, Maxim Arzumanyan
[1] See ISO/IEC/IEEE 42010, Clause 6.
Enterprise Architecture Workshop Part 1
Enterprise Architecture Workshop Part 2