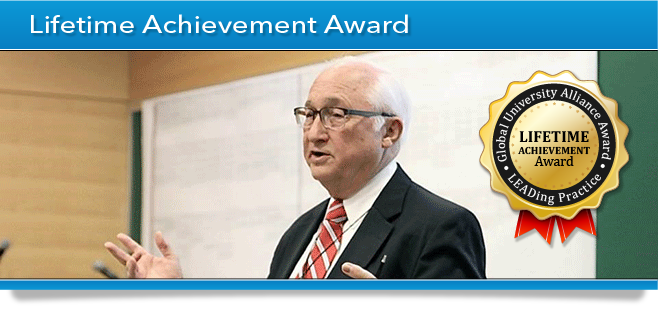 The International Panel of Judges has decided to honor John A. Zachman with the Lifetime Achievement Award in 2015, in recognition of his impact and contribution to evolve how organizations think and work around Enterprise Architecture and Enterprise Ontology across industries. We are honored to bestow this award to Mr. Zachman, as he has left his mark on this generation and generations to come, pushing the bar for how companies can work with and benefit from applying conceptual structures to their business.
Mr. Zachman is the father of Enterprise Architecture and Enterprise Ontology thinking today, and is the originator of the "Framework for Enterprise Architecture" (The Zachman Framework™), which has received broad acceptance around the world as an integrative framework, and an ontology for descriptive representations for Enterprises. He is also an executive director of the FEAC Institute (Federated Enterprise Architecture Certification Institute), awarding certifications in DoDAF (Department of Defense Architecture Framework), FEAF (Federal Enterprise Architecture Framework) and The Zachman Framework (Zachman Ontology).
Mr. Zachman is the author of numerous books, articles and publications including seminal articles on Enterprise Architecture and teacher and apologist for the Ontological approach versus Methodological approaches for Enterprise Architecture, and a  co-author of "The Complete Business Process Handbook Volume 2: Extended Business Process Management."
Mr. Zachman is not only known for this work on Enterprise Architecture, but is also known for his early contributions to IBM's Information Strategy methodology (Business Systems Planning) as well as to their Executive team planning techniques (Intensive Planning). Mr. Zachman retired from IBM in 1990, having served them for 26 years. He is the Founder and Chairman of his own education and consulting business, Zachman International®.
Mr. Zachman serves on the Executive Council for Information Management and Technology (ECIMT) of the United States Government Accountability Office (GAO) and on the Advisory Board of the Data Administration Management Association International (DAMA-I) from whom he was awarded the 2002 Lifetime Achievement Award. He was awarded the 2009 Enterprise Architecture Professional Lifetime Achievement Award from the Center for Advancement of the Enterprise Architecture Profession as well as the 2004 Oakland University, Applied Technology in Business (ATIB), Award for IS Excellence and Innovation. For more information, please visit www.zachman.com.